Main Stage Sessions are a platform for leaders and industry experts to showcase their knowledge, share their experiences, and offer insights into the latest developments in business travel. Explore the sessions at this year's Conference.
2:10 -2:40
Sustainability Main Stage | The State of Sustainability in Business Travel
A panel discussion featuring three Sustainability Officers from the aviation, accommodation, and ground transportation sectors. This session will bring valuable insights into the transformative efforts taking place within their respective domains, they will delve into the progress, ongoing initiatives, and the significant challenges that lie ahead in these critical sectors of the travel industry and provide a glimpse into the innovative approaches that continue to shape the future of business travel.
Olivia Ruggles-Brise, Vice-President, Sustainability, BCD Travel
Christopher Hook, Global Sustainability Strategy Lead , Uber
Edouard Martin, Global Decarbonization Lead, Air France
Sven Wiltink, Global Senior Director Sustainability, Radisson Hotel Group
2:40 -3:00
Fireside Chat | Airports of Tomorrow: The key to sustainable travel
Can airports be at the forefront of sustainable transportation, and pave the way for a greener, interconnected world? This discussion will explore the vital role airports play in building clean fuel infrastructure, decarbonizing their own facilities, facilitating multimodal connectivity, and much more.
Matt Prescott, Head of Carbon Strategy , Heathrow
Nigel Womersley de Zaldua, Director, Airports & Tourism, ICF
0900-1015
Industry Main stage: Music and Travel – is there something to learn?
In the early 2000's the international music industry experienced paradigm shift in how its content was consumed, distributed and paid for. Established record labels and artists saw how new technology changed the commercial landscape making music available at a much lower cost and opening the door for new opportunities. The emergence of companies like Netflix and Spotify changed the way artists were remunerated for their work, it forced new commercial models but also made it possible for non-established artists to find an audience.
Are there parallels to our industry and can we learn from what happened in theirs?
Music veteran, Ric Salmon will share his perspective on how the recording industry had to adapt to survive.
OPENING KEYNOTE: Ric Salmon - Director at ATC Management, and CEO of the award-winning livestream business Driift.
The Keynote will be followed by a leadership panel, moderated by Caroline Strachan to reflect on learnings from the music industry, how this applies to business travel and what their outlook is for the next three years.
MODERATOR:
Caroline Strachan – Managing Partner, Festive Road
PANEL
Stephan Baars - President & CEO, BCD Travel, CEO, BCD Group
Jason Clarke, CCO, Travelport
1

200-1315

Closing Main Stage

Balancing Corporate Needs & Traveller Expectations
Technology; climate change and shifts in working behaviour post pandemic are all having an impact on the way we live, work and travel – changing the way in which corporations operate and the expectations of those who work within them.

Travel is returning but not to the way it was. The question of "purposeful travel" or "the worth-it-equation" is becoming more important as external factors as well as behavioral changes are impacting the way we live, work and travel. Travel is about cost and ROI but also a driver for supporting the business and for employee satisfaction.

In this closing session we will look at how to find a balance between the needs of the corporation and the expectations and desires of those who travel for work?

An opening Keynote from Axel Mueller will layout how the working world has changed and why. Then our expert industry panel, led by Aurélie Duprez, will dive into how traveller expectations have changed and how corporations can support this.

Keynote Speaker: Axel Mueller, Regional Vice President Amadeus Cytric

MODERATOR: Aurelie Duprez, Founding Partner – Areka Consulting
Roy Golden, CEO and founder of Travelin.Ai
Sue Jones Global Meetings and Travel Manager – Ingka Group
Dennis Vilovic  - Founder and Co-CEO at TROOP

* agenda subject to change
WHERE IS THIS YEAR'S GBTA + VDR EUROPE CONFERENCE 2023 – HAMBURG LOCATED?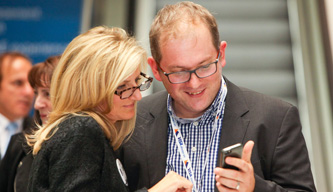 I HAVE MORE QUESTIONS. WHERE CAN I LEARN MORE?